NOTE: Wherever you can enter a symbol in WaveBasis, such as when you are creating a Watchlist, if you are interested in a particular exchange, you can enter the exchange code before the symbol separated by a ":".
For example: NASDAQ:AAPL
If you already know the symbol for the market you wish you display in a chart, you can simply type the symbol (or "ticker") into the symbol field in the top left corner of the workspace, and hit enter/return on your keyboard.
If you're not sure of the exact symbol, you can search or browse symbols by asset type (Stocks, Index, Forex, Future, Crypto), or narrow your search to symbols traded on a particular exchange. When you see the security you're interested in, simply click it in the list. These techniques are illustrated below.
NOTE: Wherever you can enter a symbol in WaveBasis, such as when you are creating a Watchlist, if you are interested in a particular exchange, you can enter the exchange code before the symbol separated by a ":".

For example: NASDAQ:AAPL
If you'd like to browse and select market listings by category, click in the symbol field and select a category from the top menu. Then select the symbol you want to track: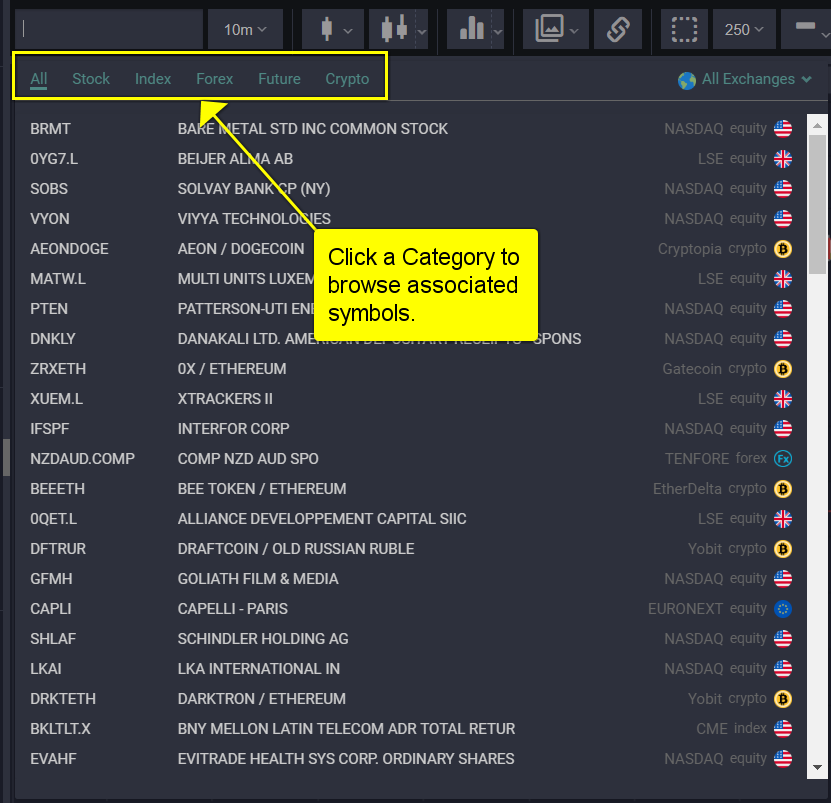 If you prefer to browse and select symbols by exchange, click in the Market Symbol field and select All Exchanges, then select an exchange to browse: