We've been pretty busy lately, releasing a number of under-the-hood improvements to WaveBasis that users may not have noticed, but we've also released a powerful new gadget for displaying alternate wave counts.
Since there's almost always more than one valid way to label a chart with a wave count, experts know that the best way to build confidence in a wave count is to compare and contrast it with other valid counts. Assessing or tracking more than one wave count is also an excellent way to further understand and tip the probabilities in your favor, as you build a case for a trade setup.
For example, it's not unusual for several alternate wave counts to suggest the same or very similar conclusions, as in the example below.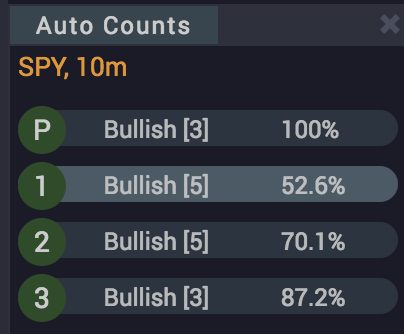 Elliotticians also know that tracking more than one wave count is typically quite challenging, because of the additional complexity and time commitment required. The alternate wave count gadget greatly streamlines this process, putting the highest probability alternate wave counts just one click away. Also, all alternate wave counts may be loaded onto charts and interactively inspected using the special gadgets and tools that are built into WaveBasis.
Gaining a robust understanding of a market's context through the use of alternate wave counts is a powerful way enhance your analysis process, and can help you get to your trading decisions with added clarity and confidence.
Find more detailed discussion about using the alternate wave count gadget…