Some of you may have already noticed that a few days ago we released a spanking new version of WaveBasis. This update includes many fixes and improvements, but we'd just like to let you know about one improvement that many of you have asked for: Indicator Templates.
It's great to be able to to easily add indicators and studies to a chart…but it's not so much fun to have to keep doing it over and over again.
So now you can save your favorite indicator setups, or make a setup your default, so all charts that you view will have your standard studies automatically applied.
Here's how it works:
On any chart, apply the indicators you want to save as a template
Open the indicators and studies menu and choose "Save indicator template…"
Enter a name for your template in the dialog that opens
…and you're done.
You can now apply that template to any chart in your workspace – or – you can set it to be the default for all charts that you open.
To make the template your default, just open the indicators menu again, hover your mouse over the template you created, and click the check mark as shown in the example below.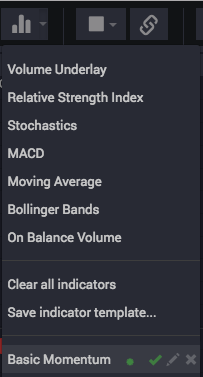 Now, whenever you open a chart it will have your default studies and indicators automatically applied.
So, keep the suggestions coming! We're dedicated to making WaveBasis the best thing for wave analysis since R.N. Elliott miraculously noticed it, and we love that you are a part of that.